Beginning with three Kansas City, MO outpatient clinics, SERC Physical Therapy had grown to 15 locations by 2012.
But SERC wasn't growing quickly enough to create opportunities for advancement and partnership for its highly qualified and talented therapists. SERC's leaders, including Mark Wernsman, determined that the situation called for a rethinking of the company's business plan or joining with a larger entity.
They met with prospective partners that could provide the structure SERC needed to grow. They investigated "probably five," Wernsman said, got serious with two, but ultimately landed with Upstream Rehabilitation in 2012.
"It just felt like the right fit," Wernsman said. "They had a similar culture, and they had similar values and a mindset that great outcomes are what's going to get your business to grow. They had similar values such as compassion, teamwork and excellence. And the partnership model was very similar to ours, too. It became pretty clear that they were the front-runner."
For Wernsman, partnering with Upstream provided career and financial opportunities for him and other SERC team members that wouldn't have existed had the company remained on its own.
Today, Wernsman is a Vice President of Operations at Upstream. He oversees SERC, which, as of 2021, has grown to 65 clinics, and has five sister brands for a total of more than 100 clinics.
Wernsman, who grew up in the Kansas City area, arrived at a physical therapy career by way of knee injuries he suffered two years apart in high school. Playing football and basketball resulted in meniscus tears that required surgery.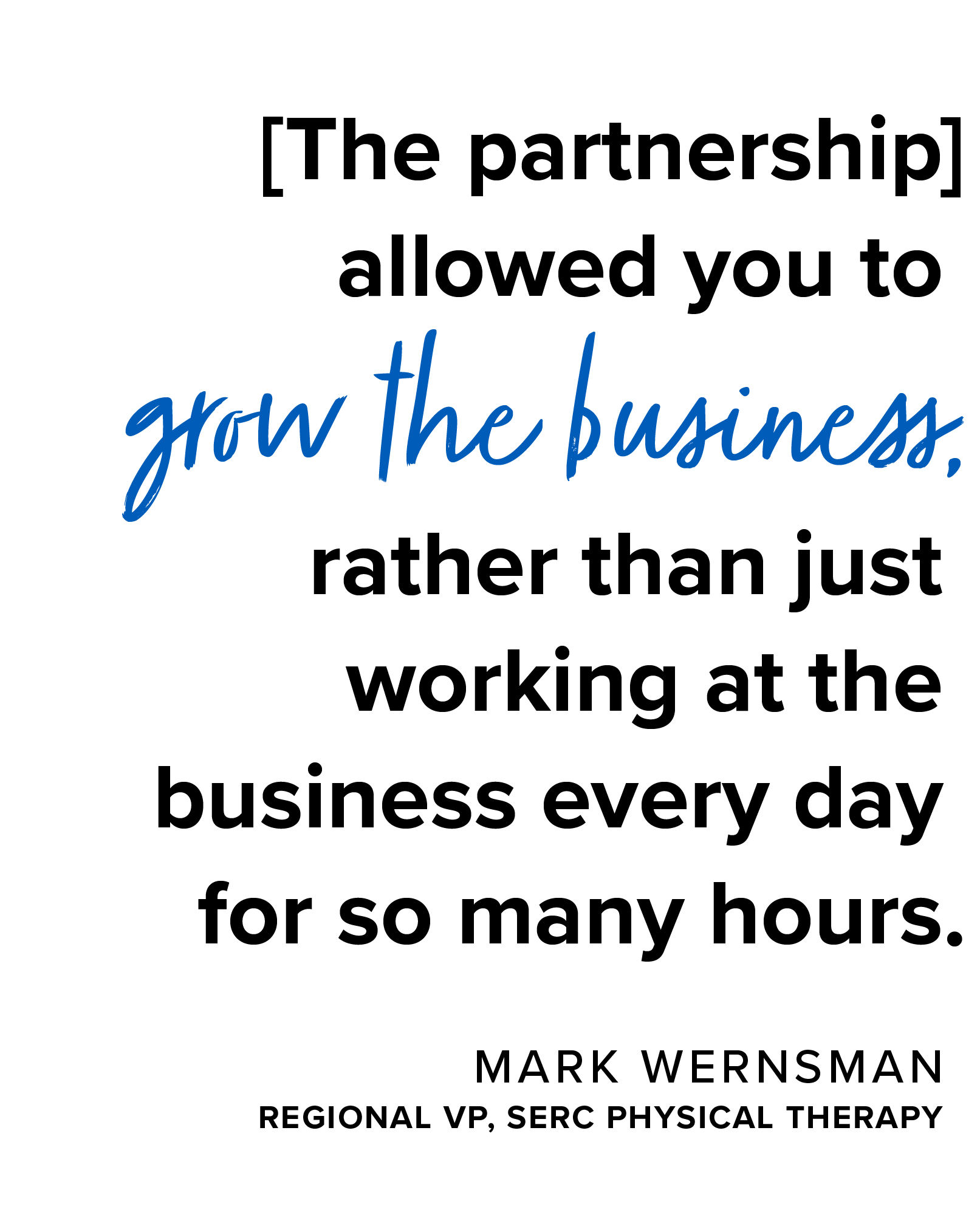 His first experience with a PT was engaging and educational. However, his PT after the second surgery "didn't treat people very well," which led Wernsman to conclude that with proper training, he could do a better job with patients.
The combination of science, athletics and helping patients return to their previous level of function prompted Wernsman to earn his physical therapy degree from the University of Missouri. He soon was running his own clinic – and experiencing a sometimes overwhelming sense of responsibility.
"Putting in long days, just trying to keep it all together, you don't really have an opportunity to say, 'What else could there be, what else bigger is there?'," he said. It's a common thread among owners at smaller companies.
"They're treating patients all day long, then when the last patient leaves, they take that hat off, and then they put the next hat on," Wernsman said. "They finish their documentation, and they pay bills, and take care of payroll.
"That's what we all were doing every day, so we really couldn't see the big picture past those daily operational things. People who are interested in partnering with Upstream, that's what we talk about."
For SERC, Upstream lifted burdens ranging from HR to compliance, sales and marketing to billing, recruiting to IT. The initial challenge of ceding some control was more than offset by the freedom gained to pursue greater rewards, such as coaching staff members and teaching them the importance of providing great customer service and clinical outcomes.
"It allowed you to grow the business rather than just working at the business every day for so many hours," Wernsman said.
Partnering with Upstream helped with recruiting, as clinicians could take advantage of residency, mentoring and continuing-education programs. Developing clinical care, in turn, improved outcomes and helped make SERC clinics the provider of choice in their market.
Challenges presented themselves, including a switch in electronic medical records systems and getting used to being part of a larger entity. But Wernsman said they were more than offset by the support and growth potential offered by Upstream, not to mention the sense of relief from the fears and risks associated with working for a smaller entity.
He delights in helping team members grow into leadership positions and reach financial goals through the Upstream model.
He has seen therapists open new clinics and gain equity partnerships; he has trained others to become Area Directors and Regional Vice Presidents. The opportunities have even extended to an employee who rose from working in a front office to overseeing all of the office coordinators in Wernsman's territory.
"That's what growth provides," he said, "that's what structure provides, and creating those opportunities for others has been the best part."