Eric Krell is undaunted by lofty goals, whether in pursuit of his pilot's license, starting a nonprofit youth soccer club in the Denver area, or opening Rocky Mountain Spine and Sport in 2003 with a single location and no patients.
"I think I saw two patients the first week," Krell said, "and that was because they followed me from my prior job."
The first clinic opened in a medical office building in Lonetree, followed by a second clinic in Littleton and a third in Castle Rock. Krell's strategic plan, developed with the help of a consultant, was to have 15 locations. Like any small business, he encountered his share of turbulence, from Colorado's relatively low reimbursement rates to the Great Recession to assuming debt that fueled expansion.
"It was just hard to grow," he said, noting that members of his staff were wearing multiple hats. Krell himself was treating patients full-time while acting as the CEO, COO and CFO.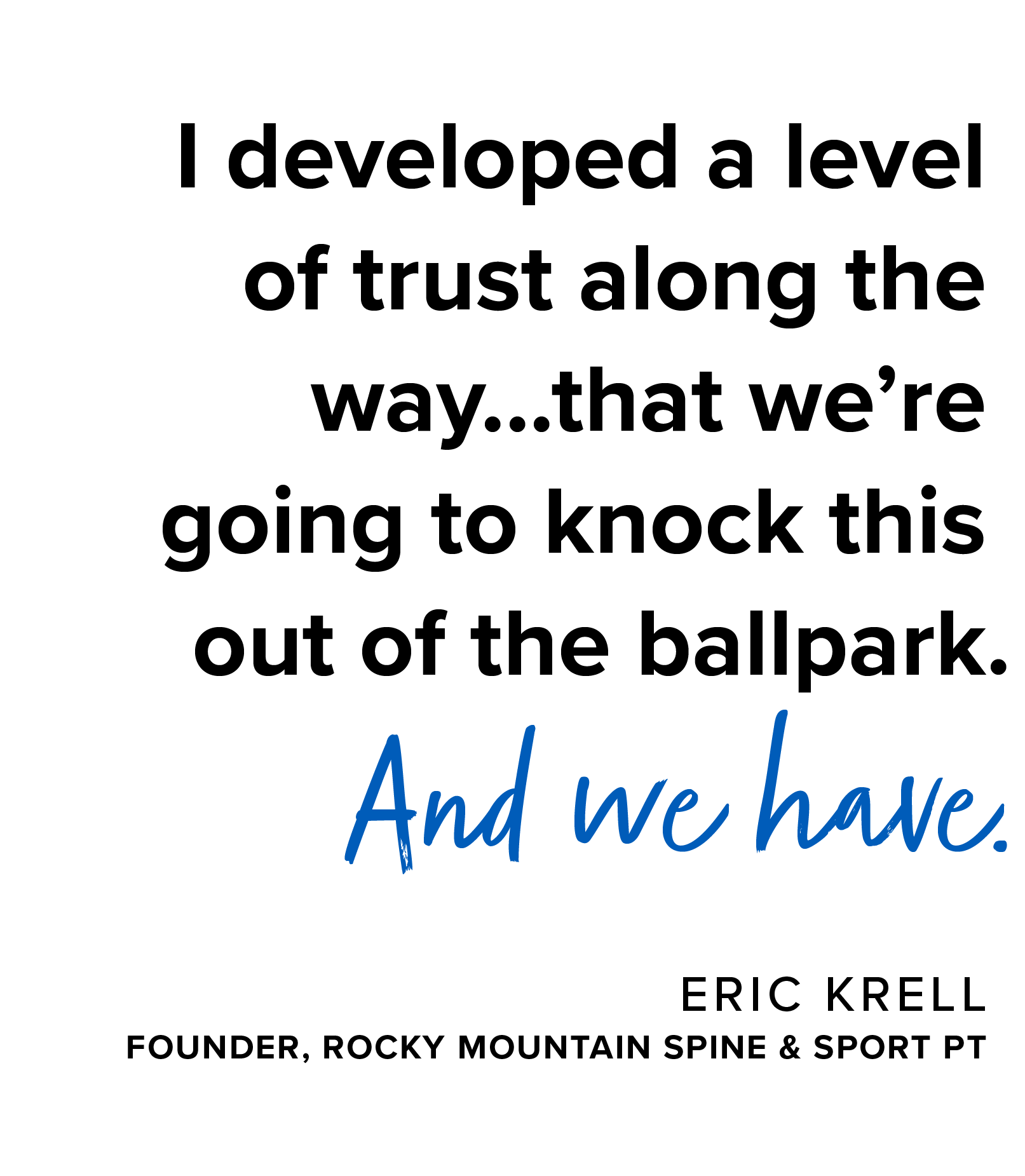 "My billing person was also my HR person," he said. "She was also my front-desk trainer. She also did payroll. It was crazy. I had so many people wearing so many different hats, and I could not continue to scale like I wanted to."
Fueled by his entrepreneurial spirit and a belief that he could provide a better service, Krell and his business partner steadily grew Rocky Mountain. But when the reality hit that he lacked the "operational infrastructure" to support continued growth, Krell was ready to take on a co-pilot.
Krell signed a series of non-disclosure agreements with prospective partners but quickly winnowed his list to Upstream and one other finalist. Ultimately, he was most comfortable with Upstream based on his knowledge of how the company had expanded in Kansas City and Atlanta and its cultural fit. So in January 2018, Rocky Mountain joined the Upstream Rehabilitation family of care.
The fact that Rocky Mountain would keep its name reflected Upstream's deference to Krell in Denver.
"They made me feel comfortable that they're looking to me for this new market for them," he said. "They don't know this market, but I do."
Immediately after joining with Upstream, Rocky Mountain closed one clinic that freed it from a difficult lease. But as of 2021, the company has added five brand new clinics as well as a 3-clinic acquisition.
Upstream offers processes, resources and scale that help with everything from lease negotiations to leaseholder improvements to securing better reimbursement rates.
Upstream's clinical director development program provides opportunities for staff members that Krell couldn't afford to provide on his own.
"Our culture was OK prior to our joint venture, but now our culture is off the charts," he said. "It's amazing. And that's one of the reasons why I think we've been able to continue to grow."
Krell said he has better relationships with his three children and wife and sleeps better at night not having to worry about payroll and other stressors that Upstream has relieved him of.
He has time to mentor his team and focus on growing the business. He has been promoted from area director, responsible only for Rocky Mountain, to regional vice president. In that new capacity, he also oversees additional clinics in Colorado Springs operated by another Upstream brand, Orthopedic Rehabilitation Associates.
"I developed a level of trust along the way, during due-diligence, and I trusted that we're going to knock this out of the ballpark," he said. "And we have. We've absolutely been killing it out here."