Meagen Mallett's mother had her first hip replacement at age 38, necessitated by a degenerative joint disease.
A lifelong resident of Mississippi, Mallett watched her mother go through physical therapy and occupational therapy treatment. She saw how important it was for her mother to relearn everyday skills such as getting dressed and getting in and out of the shower.
"It was very important functionally for my mom, for her to be able to perform daily activities," Mallett said, "and seeing her work with her OT to learn how to complete daily self-care tasks after her hip replacement,  that's what really attracted me to the occupational therapy field."
Mallett is now a regional vice president for Upstream Rehabilitation. She earned a bachelor's degree in OT from the University of Mississippi Medical Center. Feeling called to leadership, she said, she next obtained a master's degree in health services administration from Mississippi College.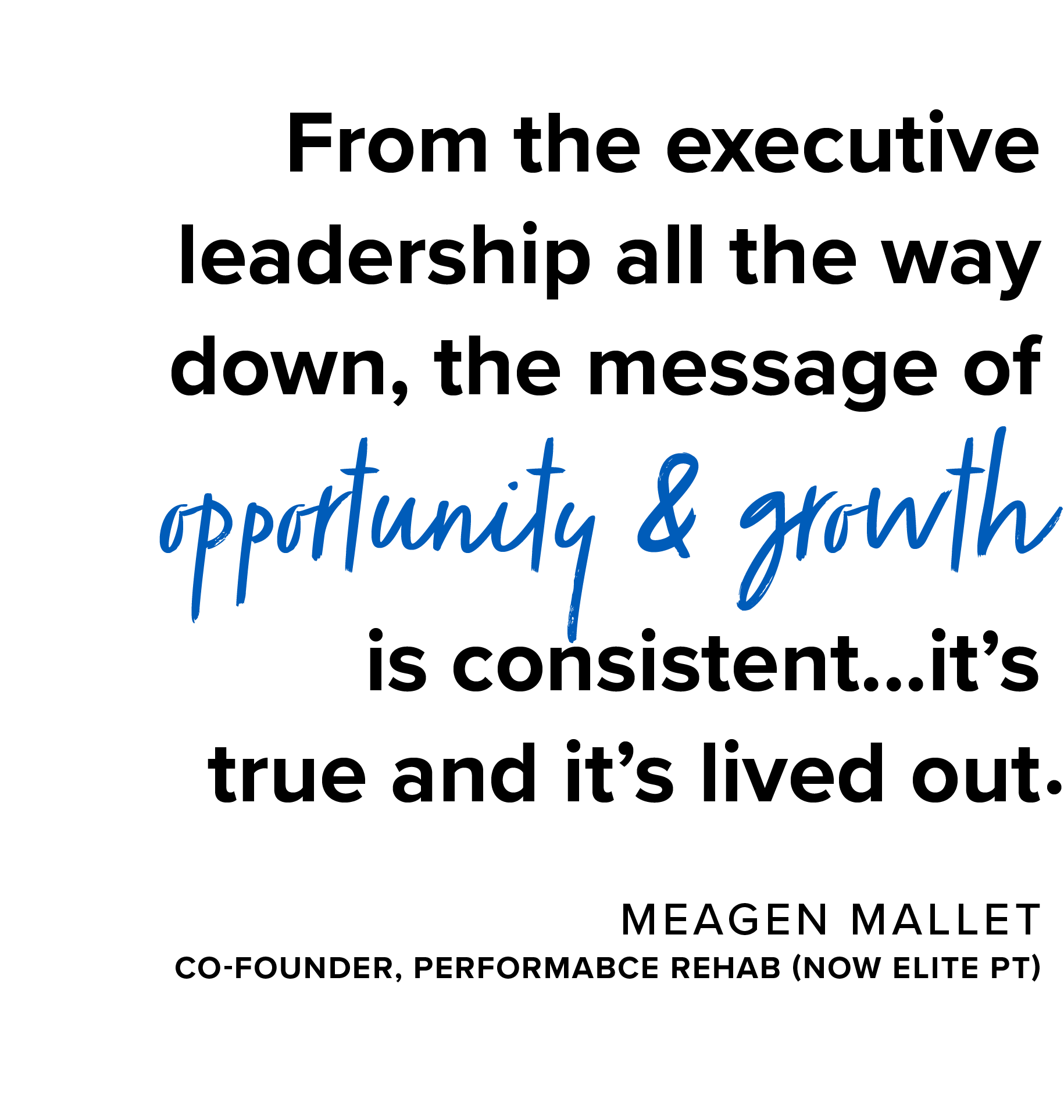 She then put her education and passions to work, as a program manager in her first job, then as an OT director for an outpatient therapy company in Jackson. Out of that grew the opportunity, with two partners, to form Performance Rehab in the Jackson area in 2004.
Initially serving assisted-living communities, Performance Rehab opened its first free-standing clinic in 2006 in Byram, then added four other locations in the Jackson area. In 2013, the partners acquired a struggling pediatric therapy clinic that they would turn around as the rebranded Beyond Therapy for Kids.
That success caught the eye of Drayer Physical Therapy Institute, a Pennsylvania-based outpatient PT provider, which acquired Performance Rehab and its six locations in 2015.
Mallett and her partners recognized that in order to keep growing and adding clinics, they would need outside help with tasks such as compliance, revenue cycle, marketing and recruiting. And they knew that a bigger partner would be able to provide clinical and leadership opportunities that they could not offer on their own.
"Our paths kept coming back to Drayer," she said. "The culture we had at Performance Rehab and Beyond Therapy for Kids matched very well with the culture of Drayer. And that was very attractive to us in a partner."
Having experienced consolidation, which included a rebranding of the Performance Rehab clinics as Elite Physical Therapy, Mallett said she was prepared for more of it.
That came in 2018 with Drayer's merger with Upstream Rehabilitation, whose equity partnership model provided yet another opportunity for clinic directors that hadn't been available to members of her team.
Mallett, who is married with two teen-age children, has realized her personal goals, too. Starting with Drayer as an area manager overseeing Performance Rehab's clinics, she now oversees a region that encompasses 20 clinics representing three brands and one managed location. One of the brands is Beyond Therapy, which added its fourth location in 2021.
"I'm very, very blessed," she said. "I have to say, it's really a team effort around any type of growth that I'm able to achieve. I can't do that by myself."
Every day brings her to at least one clinic and presents new opportunities and challenges. Mallett said that suits her.
"I'm not very good with being content," she said. "I always like to look ahead and grow and move forward with what's next and [asking the question], how do we get better?"
She ascribes a servant leadership role to herself.
"Whatever I can do to help the clinicians be better for not only their patients or personal growth but also the company growth and meeting objectives and goals is what I try to do," she said.
Nothing has put that philosophy to the test more than COVID-19.
"There were some really long days and really hard days, a lot of tough conversations," she said.
Yet helping clinic directors and their staffs overcome those challenges has been fulfilling for her and, she said, made the company even better than it was for all the lessons learned.
"I wouldn't change anything," she said of the path that led her to Drayer and, ultimately, Upstream. "I'm very grateful for the opportunity to be able to serve in my leadership capacity and grow this organization.
"Drayer and Upstream provided the resources that Performance Rehab (now Elite Physical Therapy) and Beyond Therapy needed to continue to grow and serve our communities. From the executive leadership all the way down, the message of opportunity and growth is consistent. And so, you know what you're getting and it's true and it's lived out. That's been very significant for me."