A native of Aberdeen, Wash., Bruce Snell studied athletic training at the University of Washington and then earned a master's degree in physical therapy from Indianapolis University. After school, he joined a sports medicine clinic in Phoenix, where he began treating members of the city's professional Major Indoor Soccer League team.
When investors brought an MISL team to Tacoma, Wash., they lured Snell back to his home state. A year later, at a time when the community had only a handful of PTs, Snell started NW Sports Physical Therapy with a single clinic. Meanwhile, he continued working with the Tacoma Stars soccer team as well as treating soccer players at the World Cup and Summer Olympics.
NW Sports grew to five clinics, three focused on physical therapy and two for hand therapy. But Snell said he was too spread out: wanting to still treat patients while tending to back-office matters made it difficult to continue growing the business on his own.
Snell said he "always worried." For instance, was he keeping up with ever-changing compliance issues mandated by government and insurers?
"I'm not the guy that dreams about big things," he said. "I'm the guy that worries that we're going to fail, so don't fail. I hate failure much more than I love winning."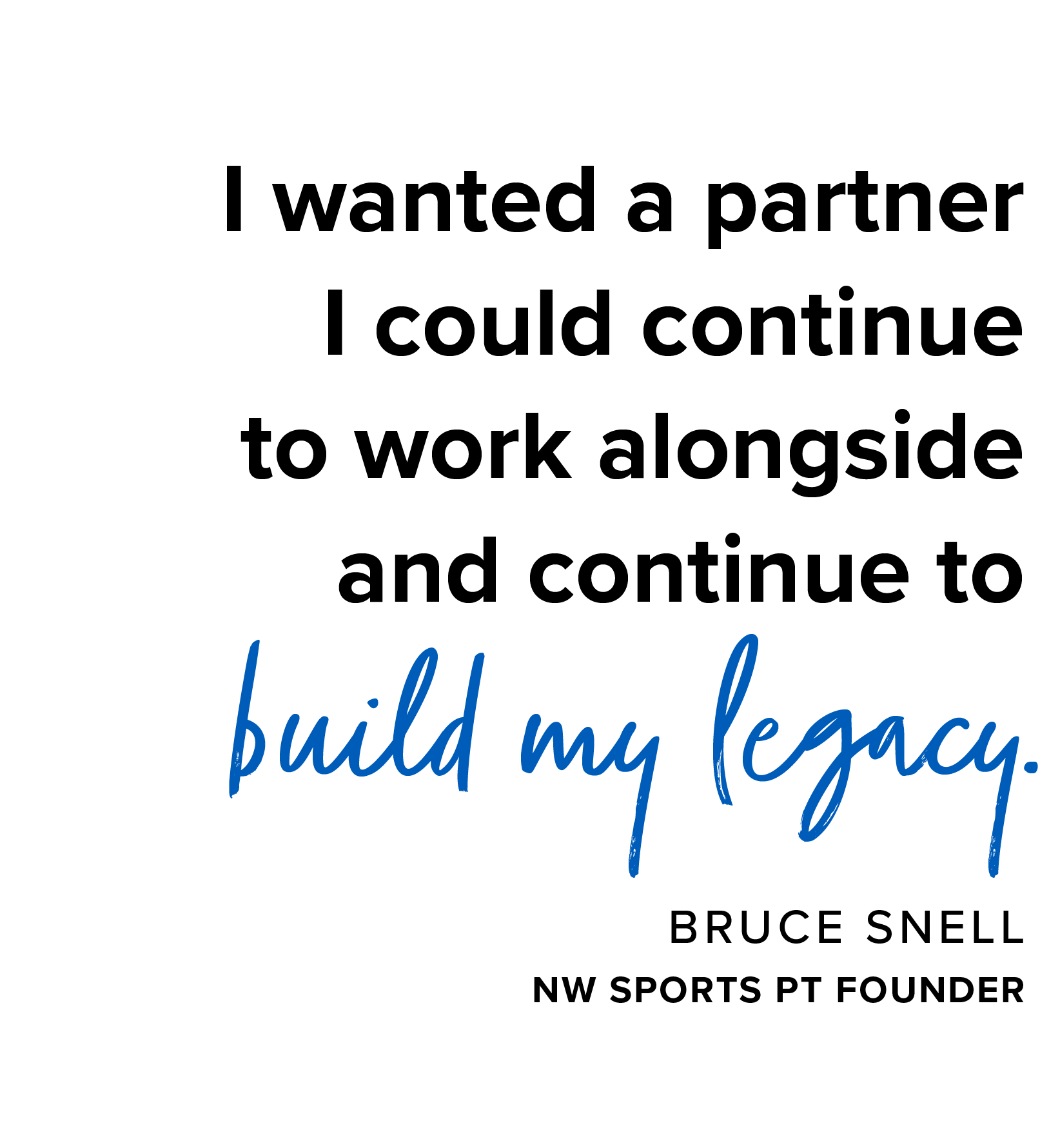 Snell, who has four grown children and two granddaughters, wasn't ready to walk away from something he had built from nothing and still loved. And he wanted to ensure opportunities for key members of his staff, some of whom had helped him build NW Sports across 15, 20, even 30 years.
He considered his options for several years. He enlisted a broker to help sort out options with other companies. Sometimes the dollars weren't right, or the timing was off, or, most important, there wasn't a cultural fit.
"I wanted a partner I could continue to work alongside and continue to build my legacy," he said.
He had preliminary conversations with Upstream, but the company didn't yet have a presence in the Pacific Northwest. Once it landed in Oregon by way of an acquisition, it was a logical next step into Washington with NW Sports.
Snell met with Upstream founder Dave Van Name and his team.
"One of the things I do well is read people," Snell said. "And, I think, reading the team, I knew they meant what they said."
After a few years as part of the Upstream family, Snell said his initial sense has been borne out.
Upstream's systems have removed compliance concerns. And as good as a smaller practice might be at billing collections, Snell said, "I can guarantee you you're not as good as Upstream. It's just a fact. It's not a slight on anybody, but when you do something 10 million times a year, whatever it is, you're going to get pretty good at it."
In August 2018, NW Sports Physical Therapy opened its first clinic since merging with the Upstream Rehabilitation family of clinical care brands.
Not only did the new Silverdale, Wash., clinic help Snell expand his company, but it provided an equity opportunity to one of his staff physical therapists, Troy Lindstrom.
"Troy's the epitome, I think, of the opportunities that Upstream has created with its business model," Snell said.
NW Sports has continued to build, growing from five clinics at the time of partnering with Upstream to 12 locations in 2021, with more clinics planned in coming years. Even more to Snell's satisfaction, Lindstrom's stake has grown to parts of five clinics, while three other PTs have equity in one clinic each, and there are more equity opportunities for therapists as NW Sports continues to grow.
Without question, Snell said partnering with Upstream has been an unqualified success.
"They pretty much let me be and let me find what I'm best at and do those things," he said. "And then my job is to find what other people are best at and let them do those things. I feel more secure. I'm doing the things I like to do more than anything."